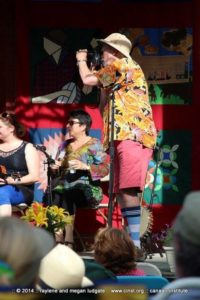 Dress Like Bill
In remembrance of Bill Spence, we ask that people wear Hawaiian Shirts any or all the time over the weekend, and if you have them, pith helmets. This year's festival is dedicated to Andy and Bill whose tireless efforts kept this festival going for the past 38 years.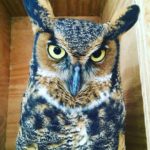 Whispering Willow Wild Care
Whispering Willow Wild Careis joining us this year on Saturday and Sunday from 10 am–5 pm.  They will have owls and hawks (tethered to their handlers) and will answer your questions about the Wild Care center and the birds they are bringing. They will bring different birds each day. This will take place near Area 6—see the picture of the owl on your festival map. More detailed information is in your program book.
Trolley
If you're too tired to walk or having some difficulty walking, there's a very small trolley that can transport you from one end of the grounds to the other—basically follows the track. We ask that those who can make it on their own please give up their seat to those in need as it's a small trolley!
We'd like to see your views of the festival. You could win tickets to the 2020 Old Songs Festival and more. Click here for complete rules.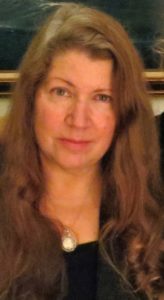 Changes afoot
In September 2018, our founder, Executive Director, and guiding spirit, Andy Spence, turned over the reins of the organization to Joy Bennett, who was the unanimous choice of the Old Songs Board of Directors and Andy to fill the Executive Director position. Read more about this in the Festival Program, and say "Hi" to Joy at the festival. Though this is her first year as Executive Director, it's her 28th Old Songs Festival!
Main Stage Area
The next phase in the Altamont Fairgrounds plan to improve drainage has been completed in the Main Stage area (more to come).  The terracing has been done, sod laid and beautiful grass has grown there. The trade-off is that we can no longer allow tarps or blankets on the grassy terraces in front of the stage because they kill off the grass. Blankets and tarps are still allowed on the areas far left of the stage and behind the grassy areas. Please be kind and only use tarps and blankets where they are allowed. You may still cover your chairs with tarps, just not the grass!