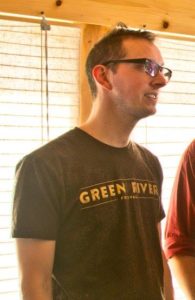 Stefan Amidon, a gifted singer and singing leader, leads shape note singing at the Old Songs Festival, and has led harmony singing at Oberlin and at the CDSS-sponsored summer camps Pinewoods Family Week and Ogontz Family Week. He has been on several Northern Harmony tours, and was a leader of an Adult Village Harmony singing camp. Although he is best known as a percussionist and singer, he is also becoming a hot mandolin player, and a deeply meditative old time fiddler.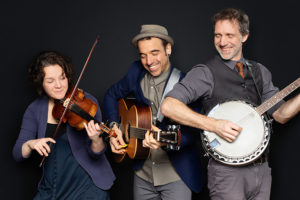 Bon Débarras unites music, dance, and poetry through a collaboration between Montreal artists Dominic Desrochers, Jean-François Dumas, and Véronique Plasse. The group fuses Quebecois folk music, traditional step-dancing, and global influences, for a show that is full of fun and inventive energy. On guitar, banjo, violin, and harmonica, the trio's energy taps into the rhythms of today and ventures boldly on the multi-faceted road to tomorrow's dreams, in an atmosphere that transcends boundaries and ages.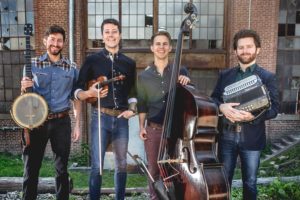 From dance-inducing Old Time rhythms and foot-stomping Irish melodies to hard-driving bluegrass, Baltimore-based Charm City Junction—Patrick McAvinue on fiddle, Brad Kolodner on clawhammer banjo, Sean McComiskey on button accordion, and Alex Lacquement on upright bass—creates a fresh soundscape that keeps listeners on the edge of their seats wondering where they'll go next.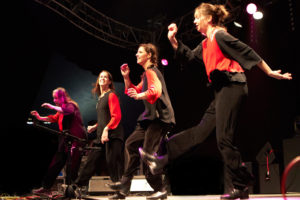 They'll team up with Footworks Percussive Dance Ensemble, which presents an exuberant fusion of live music, comedy, singing, and a dazzling array of percussive dance forms rooted in different cultures. Since 1979, Footworks has represented American culture internationally, including on a Smithsonian Institution tour of Japan and as guest artists with Riverdancein London.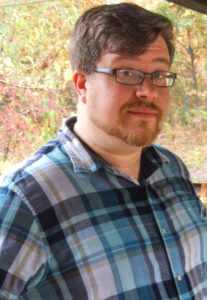 Some of Ron Blechner's contra-calling principles: "If you're having fun, you're doing it right. Contra dancing is a community dance; dancers should feel welcome, comfortable, and safe. Dance programs should be tailored to the specific interests and the skill level of the crowd as well as the style of the musicians. A caller should be able to inject energy into the crowd, but mainly connect dancers with the music and each other." His words. His call.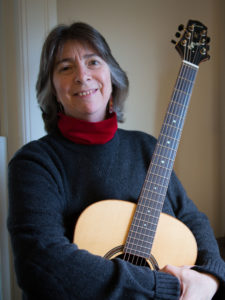 Deb Cowan was once asked what kind of songs she writes. Her reply? "Bad ones. Besides, there are so many good songs out there written by others and they should be sung." And she makes sure they are: her captivating warm alto carries each song she chooses with such emotion that you'll forget they were written by others. She performs a cappella and with guitar, with a clear vocal that calls forth the ghosts of long past but can also offer a more modern urban landscape.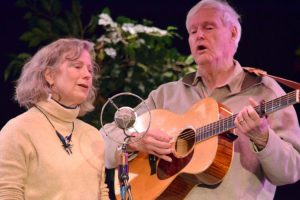 Bill Destler is folk musician in Rochester, NY and a founding member of the Baltimore Folk Music Society. He is also one of the world's foremost antique banjo collectors; the number of instruments in his collection is purportedly more than 160. From 2007 to 2017 he served as the 9th president of the Rochester Institute of Technology. His wife, Rebecca Johnson, sings vocal accompaniment on some of his albums and frequently joins him on stage.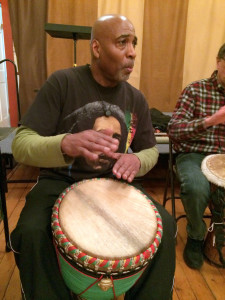 John Dickson of Gomni believes that African drumming is the pulse of the heart beat. It is the African Cultural way of communication or celebration in symbolizing a sad or joyous occasion. John teaches basic fundamentals of African drumming for all ages and enjoys teaching youth.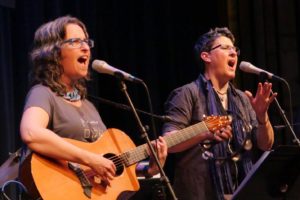 Emma's Revolution is the dynamic, award-winning activist duo of Pat Humphries and Sandy O. In the spirit of Emma Goldman's "If I can't dance, I don't want to be part of your revolution," and with beautiful harmonies and genre-defying eclecticism, Emma's Revolution delivers the energy and strength of their convictions, in an uprising of truth and hope for these tumultuous times. Sandy contributes exquisite vocals, guitar playing, and songwriting, while Pat is widely known and highly regarded for her spellbinding singing and for her songwriting.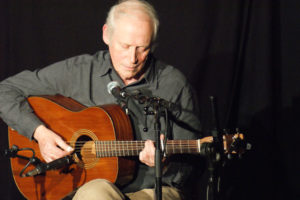 Master guitarist, singer, and songwriter Archie Fisher is Scotland's foremost troubadour. Archie was born in Glasgow into a large singing family, which yielded three professional singers—Archie and his sisters Ray and Cilla. Music was always in the house: his father's appreciation of many musical styles (opera, vaudeville, and traditional ballads) proved to be a heavy influence on Archie's own music, while his mother, a native Gaelic speaker from the Outer Hebrides, was a strong influence on the lyrical quality of his songwriting.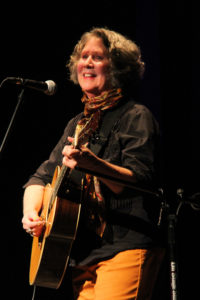 Guitarist, singer, and songwriter Mary Flower is that rare breed of American roots artist: her devotion to the art form is both lovingly and historically accurate, yet her creativity lends it vitality and energy so that it might continue, evolve, and flourish in an age of increasingly digitized and compressed music. Her finger-picking-guitar and lap-slide prowess is soulful and meter-perfect, a deft blend of the inventive, the dexterous, and the mesmerizing; and her supple honey-and-whiskey voice provides the perfect melodic accompaniment to each song's story.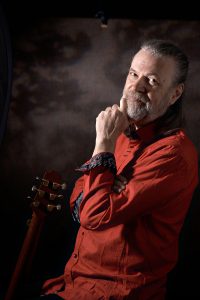 In a world dominated by the trends and logic of the market, Beppe Gambetta's playing and singing stand out. His is an inspired music that avoids relying solely on his technical excellence, but also reveals the innermost feelings of a brilliant, playful mind that is always exploring and innovating while staying firmly rooted in tradition. He naturally and seamlessly bridges the shores of two continents, creating a musical fusion of American roots and the Ligurian tradition, emigration songs and folk ballads, steel-string guitars and vintage harp-guitars.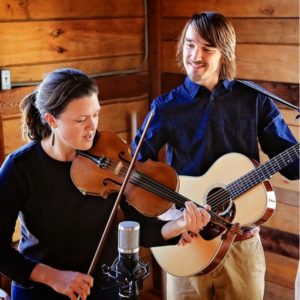 Singer, multi-instrumentalist, and songwriter Sam Gleaves is rooted in Appalachian sounds, while his songwriting tells of contemporary rural life and social issues. He'll perform with Deborah Payne.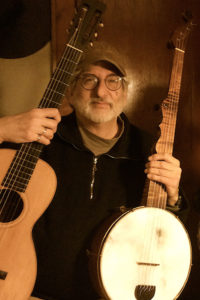 Ron Gordon, the Capital Region's ukulele guru, has long crusaded for all things uke in upstate New York, spreading the uke gospel to kids and adults.He has performed with St. Regis String Band, Mandolin Madness, and the Old Songs Festival Jug Band. He teaches acoustic music in varied styles and on varied instruments: guitar, banjo, mandolin, and of course plays and teaches ukulele at festivals, onstage, and for private students and events.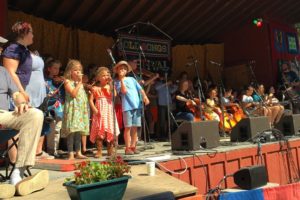 Under the tutelage of Great Groove Band staff, school-age musicians (ages 6–17) bring acoustic instruments and voices to Old Songs. In six hours of focused rehearsal over three days, they experience the joy of music—learning, arranging, and performing fiddle tunes and folk songs by ear. Learning to work cooperatively as The Great Groove Band, they prepare for a Sunday afternoon performance on the main stage. The band's transformation from chaos to harmony over three days is both remarkable and predictable, proving that music truly is our birthright! The teachers: Donna Hébert, Max Cohen, Molly Hebert-Wilson, Lui Collins, Rob Pruyn-Bush, Alex Bell, Noam Berg.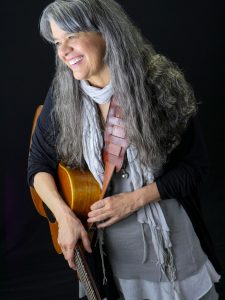 As a singer, actress, writer, and musician, Anne Hills has continuously built a reputation of merit. She is best known for her solo or collaborative singing and interpretive gifts, while her commitment to social justice and to children keeps her busy with benefit concerts and community-service projects. Whether she is singing her own song, the words of 6-year-old Opal Whiteley, or those of the Hoosier poet James Whitcomb Riley, accompanied with her guitar, her banjo, or simply a Tibetan bell, she puts her whole heart and soul into the moment.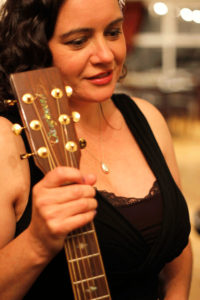 Originally from Waterville, on the breathtakingly beautiful Ring of Kerry, Clare Horgan grew up in a bilingual community on the edge of the Irish-speaking (Gaeltacht) area of Baile 'n Sceilg. From a childhood steeped in the rich tradition of Irish music, song, dance, and culture, Clare is fast becoming the face of traditional Irish songs in Kerry. Through the songs she collects, Clare provides a spell-binding, accurate, and entertaining glimpse into history, be it long-ago shipwrecks or Fenian massacres in Tralee. She'll be joined by Mark Simos.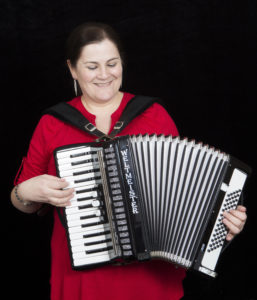 Bill(Belinda) Jones, with her lively style and unpretentious approach, launched herself onto the UK folk scene in 1999, starting out by singing a couple of songs in local folk clubs and learning her craft. Born in Staffordshire but based in the northeast for over 20 years now, Bill plays accordion, piano, and Irish whistle. Her musicianship provides marvelous accompaniment to her sweet and beautiful voice. Her live sets feature gentle songs to tug at your heart, energetic sets to get your feet tapping, and tales to enthrall, all bound together by gentle humour.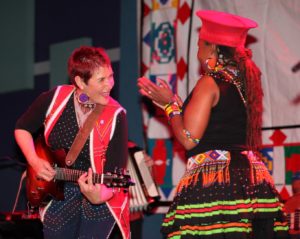 The multicultural South African band, Sharon Katz & The Peace Train helped Nelson Mandela end apartheid and has continued to spread a message of peace and reconciliation through performances and workshops around the world ever since. Whether reduced to a duo, trio, or quartet or expanded to as many as ten performers, the band blends Sharon's African-picking style of guitar work with intricate drumming, pulsating dances, compelling lyrics, and rich harmonies to take audiences on a joyride through South Africa's past and into the future. Performances are always participatory and for all ages.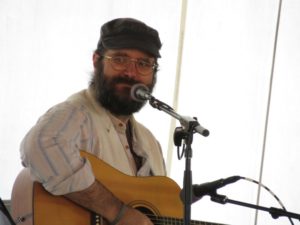 Chris Koldeway has been singing folk music and sea music in particular since his early teens. He comes from a family rich in maritime traditions, and his lullabies as a child were traditional songs of the sea. Chris primarily performs American and British traditional music, and he is attracted to the stories behind many of the songs he sings. So, the approach to many of those songs includes their historical and social perspectives and background. The songs may range from the "sublime to the ridiculous," and everything in between. Chris can accompany himself on Guitar, Banjo, Fiddle, Concertina, Mandolin and other things common to an average garage sale.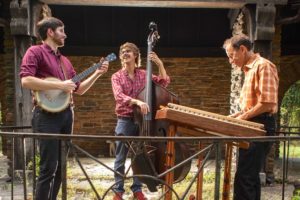 The dynamic father-son duo Ken & Brad Kolodner weave together a captivating soundscape on hammered dulcimer, banjo, and fiddles, pushing the boundaries of the Old-Time tradition into uncharted territory. Regarded as one of the most influential hammered-dulcimer players and Old-Time fiddlers in North America, Ken has joined forces with his son Brad, a rising star in the clawhammer-banjo world. Together, they create driving, innovative, tasteful, and unique interpretations of traditional and original fiddle tunes and songs. In concert, they regularly perform as a trio with bassist Alex Lacquement who locks everything together with his commanding and tasteful choices.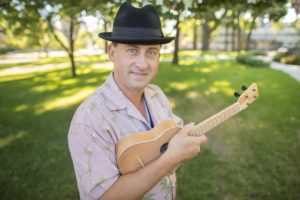 Lil Rev, in his own words:"The way I see it, music isn't just about entertainment. It has the ability to uplift spirits and empower human beings, whether you're a kid, a senior, someone with developmental disabilities, or just an average person just getting through your day. Without a doubt, my first loves are for the humble ukulele and harmonica. But the truth of the matter is that I'm actually a seasoned multi-instrumentalist equally adept with a flat-pick guitar, old-time banjo, or blues mandolin." And he's been at it for 20+ years.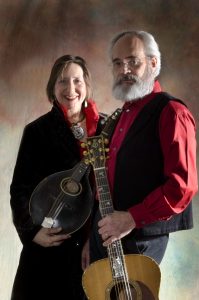 Magpie is Terry Leonino and Greg Artzner, whose repertoire ranges from traditional and vintage Americana to contemporary and original compositions. Terry is a gifted singer of jazz and blues, but is equally comfortable with the subtle beauty of traditional folk and contemporary songs.  She is also an excellent player of the harmonica, mandolin, fretted dulcimer, and rhythm guitar. Greg is an outstanding finger-style guitarist, and his captivating vocal interpretation gives power and beauty to the full spectrum, from growling blues, to a Chilean lament, to a sweet croon.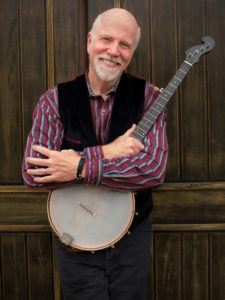 John McCutcheon is simply one of our most respected and loved folksingers. Multi-instrumentalist, songwriter, singer, storyteller recording artist, producer, author, educator, and committed grassroots political activist, he is indeed "Virginia's rustic Renaissance man"(the Washington Post). But it is in live performance that John feels most at home, whether in a major concert hall or theater, in an elementary school auditorium, on a festival stage, or at a farm rally. Whether in print, on record, or on stage, few people communicate with the versatility, charm, wit, or pure talent of this man.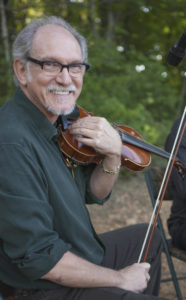 Bruce Molsky stands today as perhaps the premier old-time fiddler in the world. His own personal authenticity deeply informs his music. Whether performing an ancient reel from Virginia, a Swedish waltz, or a loping cowboy ballad, Bruce presents himself as exactly who he is. He knows that traditional music is real people's music, the honest expression of life as we all live it. You don't master that by imitating others, nor by trying to live in other people's worlds. You master it by being yourself; and at that profoundly simple and profoundly difficult musical art, Molsky is truly old-time music's master craftsman.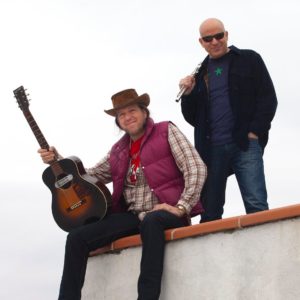 Mulebone is a partnership comprised of multi-instrumentalist John Ragusa and roots-music specialist Hugh Pool. The grist for their mill is traditional blues. John plays conch shell, Jews harp, cornet, all manner of flutes, and tin whistle; he also chimes in on the harmony vocals.In addition to singing, Hughplays guitars, harmonica, and boot board, all with a mouth full of whiskey and a giant heart. As Mulebone, Hugh and John play slide-guitar boogies, 1-chord trance riffs àlaHowlin' Wolf, the uptempo rags of Reverend Gary Davis, and country blues of all shapes and colors.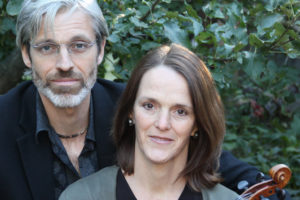 Keith Murphy and Becky Tracy perform traditional music(plus Keith's original compositions) from Newfoundland, Quebec, Ireland, France, and beyond. Becky's fiddling pulses through tasteful arrangements of dance tunes and resonates with beauty on traditional slow airs. Keith's gentle and expressive singing in English and French is balanced by the drive and power of his guitar playing and foot percussion (he also plays mandolin and piano). Combined, they produce a range and richness of sound that is striking for a duo.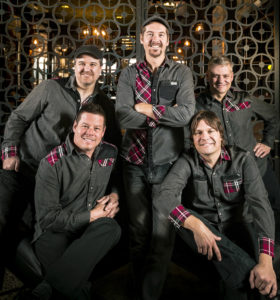 Five male voices in a cappella arrangements accompanied by rhythmical foot tapping, Musique à bouches explores the traditional repertoire, mostly Québécoisbut including European traditional songs and folk singalongs. With a broad set of songs, ranging from drinking songs, love songs and those of sailors, David Bélanger, Olivier Brousseau, Jérôme Fortin, Sylvain Trudel and Isaël McIntyre send shivers of happiness when their five voices are in perfect harmony.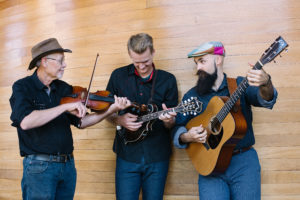 Pete's Posse is composed of acclaimed musician Pete Sutherland, his protégé Oliver Scanlon, and the dynamic Tristan Henderson. These multi-instrumentalists showcase twin fiddles in tight, wild harmony over high-powered guitar and pounding foot percussion, with mandolin, clawhammer banjo, jaw harp, rocking keyboards, and soaring vocal harmonies adding their voices to the mix. They tap into many traditions from north to south and east to west, to distill a distinct sound that is completely their own.Songs and tunes—traditional and original, lyrical and driving—are at the heart of Pete's Posse.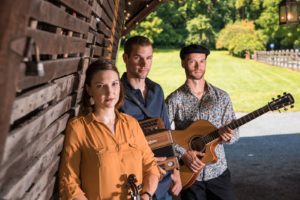 Poor Man's Gambit is a trio of traditional artists: Corey Purcell (button accordion, cittern, vocals, bodhran, dance), Federico Betti (guitar, fiddle), and Deirdre Lockman (fiddle, vocals, dance). It's their combination of musical styles that sets them apart: not only do they offer an array of instrumental combinations, but they also include the visual and audial element of dance. Building on their roots as traditional Irish musicians, the trio's repertoire is also influenced by traditional music of other cultures, including France, Scotland, England, and America.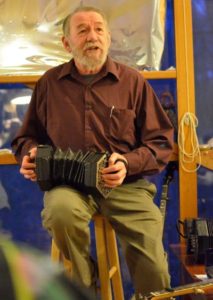 John Roberts has been singing English folk songs since the early 1960s, when he joined a local folk club in his native Worcestershire. In America since 1968, he joined with Tony Barrand to form a duo which has lasted ever since. Singing in unaccompanied harmony, or with concertina or banjo, their entertaining style has delighted audiences. These days, he mostly performs solo or in tandem with Debra Cowan. He presents a selection of songs, some well-known to folk aficionados and others less so.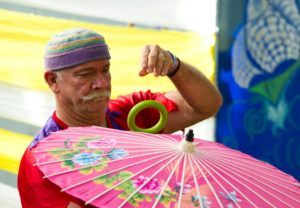 Roger the Jester keeps pretty mum on stage, but here are some words of his. "My work is constantly changing; every venue will elicit new material. Every performance is a debut, since my work is so improvisational . . . . There are many events where I create something special just for that event… I recently was commissioned to perform at a wedding reception.  I played an arrangement of the Beatles' 'All you need is Love' on the tuba, trombone, pocket trumpet, baritone, melodica, boom whacker and cymbals… [But] I will continue to juggle, spin, throw and play with all sorts of objects.  Don't worry."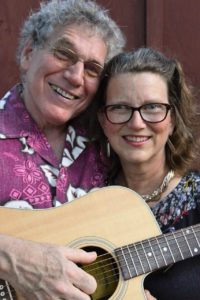 Sally Rogers and Howie Bursen have racked up a string of successes in songwriting, studio recording, and crowd-pleasing displays of instrumental and vocal virtuosity. Sally is a first-rate player of the guitar, banjo, and mountain dulcimer, has a voice as "clear as the queen's diamonds" (Frets), and enthralls audiences young and old with her repertoire of traditional folk, old-timey, and (most recently) children's music, as well as her own compositions. Acclaimed as a true master of the frailed banjo, Howie is also known for his warm baritone voice, devilish sense of humor, and inventive guitar arrangements, as well as his vineyards.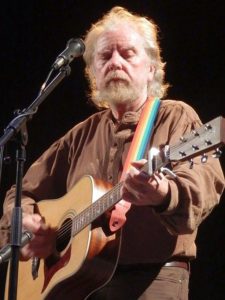 Tommy Sands, Co Down's singer, songwriter, and social activist, has achieved something akin to legendary status in his own lifetime. From the pioneering days with the influential Sands Family, bringing Irish music from New York's Carnegie Hall to Moscow's Olympic Stadium, he has developed into one of the most powerful songwriters and enchanting solo performers in Ireland today. His songwriting, which has drawn the admiration of folks like Seamus Heaney and Pete Seeger, prompted Sing Outto describe him as "the most powerful songwriter in Ireland, if not the rest of the world."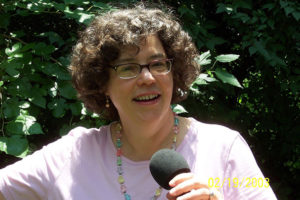 Janine Smith calls contra, square, ceilidh, and family dances mostly in the Washington, DC, area, but she shares her humorous (sometimes goofy) and infectious passion for music and dance with folks from Glen Echo, MD, to Seattle, WA. Specializing in Singing Squares and in generally whoopin' it up, she's known for her calm, unflappable demeanor and for her skill at knowing just which dances to teach and call, whether it's to a room full of new and never-danced wedding guests or a group of skilled contra dancers looking for a challenge.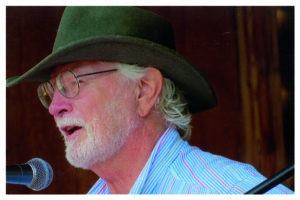 Bill Staines, veteran of the folk scene of the 1960's, is an intimate, compelling performer on stage, encouraging his audience to sing with him on his chorus songs. He mixes in traditional tunes with his own contemporary folk ballads. His humorous tales of life on the road and his observations of everyday people provide an entertaining blend of story and song. "I have always wanted to bring something of value to people with my songs. I think that is important, to try to write beyond myself, to write to the great things that we all experience in our lives."  For Bill, that is what folk music is all about–a music rich in the human experience and spirit.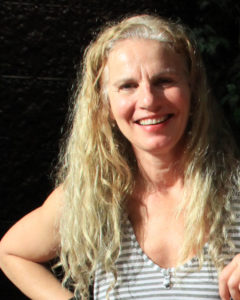 Toby Stover is a pianist, singer, dancer, and more-than-35-year veteran of the music and theater arts. She is familiar with indigenous music styles and is an acknowledged master of New England style rhythm accompaniment. She performs and teaches African dance and drum and of course provides Fennig's All-Stars with its rock-solid piano backbone. Toby has been a Fennig's member since 1974.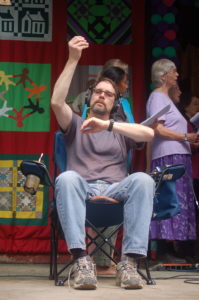 Jake Thomas, our favorite master signer, has been interpreting the Old Songs Festival concerts every year since 1992. His considerable skills at conveying whatever our performers throw at him—often in unfamiliar languages, dialects, accents, etc.—with unflagging panache have made him a favorite, not only of those for whom his services are intended, but also of our entire audience. We're delighted that he's ready and willing to make the annual trek from southern Maryland up to Altamont for our festival.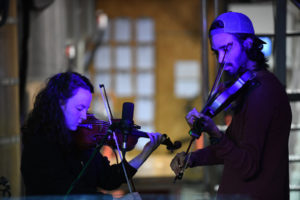 Fiddler, banjoist, singer, and scholar Jake Blount centers and venerates his racial and ethnic heritage through his approach to music and its history, particularly that of the Appalachian tradition. Fiddle player, violinist, and educator Libby Weitnauer is still discovering her identity as a musician, but she finds inspiration by exploring the depths and boundaries of the traditional music of Appalachia. The two joined forces to become Tui in mid-2018. Their diverse influences enable them to create music that is innovative and technically demanding, yet accessible and affecting as only old songs can be.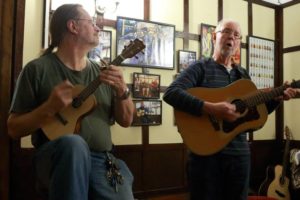 Rob van Sante, born in Holland, lives in the north of England and is well respected in the U.K. folk scene. Acknowledged for his subtle guitar accompaniments and fine harmony singing, Rob is also a noted producer, recording engineer (think Battlefield Band), and session musician. John Conolly is an internationally-respected writer of thought-provoking, tuneful, singable, and often outrageously funny songs who has based his style firmly in the British folk tradition. Sea songs are the bedrock of his repertoire, but he does at times launch into anti-war outbursts, tender love songs, or political squibs.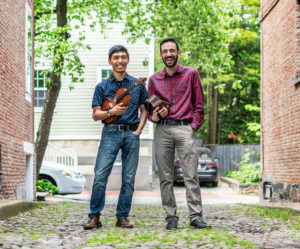 The Vox Hunters (Armand Aromin and Benedict Gagliardi) are seekers and singers of old songs, cultivators of local (Rhode Island) music, and chronic multi-instrumentalists. They are touted as strong tradition-bearers in their generation, and their genuine affinity for the music is evident in the emotion they draw from it. With a pair of oft-harmonizing voices tastefully garnished with fiddle, free-reeds, and tenor guitar, The Vox Hunters offer an all-natural connection to the living tradition of folk music.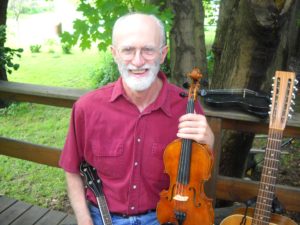 A talented multi-instrumentalist and singer, George Wilson samples a wide variety of traditional and folk styles. As a fiddler, he has over 500 tunes for dancing and listening—tunes from New England, Quebec, Cape Breton, Scotland, Ireland, and Shetland. His dynamic fiddling, strongly influenced by Cape Breton and French Canadian styles, has been popular with contra dancers and concert-goers since the late 1970s.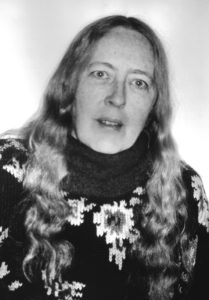 Heather Wood began her professional career in 1965 as a member of the legendary Young Tradition. Over the years, she has performed and recorded (e.g., on The Holly Bears the Crownand the Rhino anthology Troubadours of British Folk) both solo and with various collaborators (including such luminaries as Dolly and Shirley Collins, Judy Collins, Frankie Armstrong, and Dave Van Ronk). An occasional songwriter, she is best known for her renditions of mainly English traditional folk songs, ballads, and sea shanties.