Camping Fee: $25 per adult (age 19 and over) for the weekend.
(this amount is included in an All-Festival Ticket with Camping)
Camping at the Old Songs Festival has been designed to meet Albany County Public Health Campground Code.
---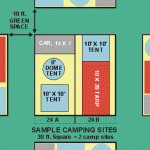 Camping locations will be assigned at random on a first-come, first-served basis.
Tent camping areas are divided into 30′ squares separated by a 10′ open space. Each 30′ square is numbered and divided in half. Expect to be sharing the square with another party. Your camping equipment must fit within half of the square. If your car won't fit, move it to the car park. Remember, each tent camping site is a 30′ x 30′ square.

RV camping areas are divided into spaces of various shapes and sizes. Please enter the length of your RV in the camping questions, so we can assign a site that fits your RV.
Camping is available for purchasers of an All-Festival Ticket.
Includes any of the following nights: Thursday, Friday, Saturday, Sunday.
All camping squares are numbered and reserved. All camping is "dry" camping meaning there is no service available on individual squares.
---
To get access to electricity you must purchase an Electric Permit Tag ($20). Electric Permits are limited, distributed on a first come, first served basis, and only available at certain campsites, which may be different than your requested site.
---
Camping Rules: The open space between camping squares must remain unobstructed. No open fires or charcoal stoves. Propane stoves and lanterns are permitted, but must not be left unattended. Pets are NOT allowed.  Service animals are allowed.

There is No Dump Station
You must come to the festival with full water tanks and empty sewage and gray water tanks. You can dump at Thompson's Lake State Campground, 6 1/2 miles on Route 156 for the $7 entrance fee, 7 am–9 pm.
---
Camping Gate Hours:
Thursday: 5:00 pm–9:00 pm
Friday: 9:00 am–9:00 pm
Saturday: 9:00 am–noon at Gate 2
---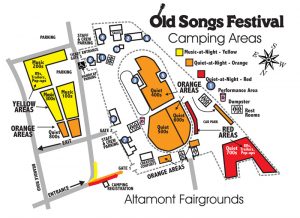 Click on map to view larger version.
---
Quiet-at-Night Tent Camping
400, 500, 600, and 800 areas for tents, vans, and small pop-ups. We recommend this area for families with children under age 12. Cars parked in this area cannot be moved during the festival. If you need to move your car during the festival you must park it in the Car Park area. 
---
Quiet-at-Night RV Camping
700 for trailers and RVs. We cannot guarantee hook-ups in this area.
---
Music-at-Night Camping
200 for trailers & RVs. 100 & 300 for tents, vans, pop-ups. Please indicate what kind of equipment you have. We cannot guarantee hook-ups in this area.