Press Release
Announcing the 38th Annual Old Songs Folk Festival
The 38th annual 3-day Old Songs Folk Festival­ of Traditional Music and Dance will be held on June 22, 23 & 24, 2018 at the Altamont Fairgrounds, Rt. 146, Altamont, NY.
Discover the music of the people! Old Songs celebrates folk, Celtic, and roots music; from Ireland, Quebec, the Caribbean, New England, and more. Songs, both current and relevant, by contemporary songwriters are also heard at the festival.
SING, DANCE, JAM and LISTEN at this participatory event for the whole family, Old Songs encourages audience members to join jam sessions, take part in learn-how sessions, sing sacred harp, move their feet to our great dance bands or take a Friday afternoon class.
On Saturday families will enjoy "La Cosecha/The Harvest" by Arm of the Sea Puppet and Mask Theater. In Spanish and English, this poignant drama features bold puppet figures, vivid mask characters, and Nueva Cancion music from Latin America.
Our participatory music program for kids, 6-18 is called The Great Groove Band. Bring your voice and instrument for 3 days of group instruction by professional music coaches. Learn some folk songs and fiddle tunes.
The  three main stage concerts are Friday at 6:30 pm, Saturday at 6:30 pm and Sunday at 3:30 pm in the leafy, open-air main stage area (rain site also provided). During the day on Saturday and Sunday there are 100 plus performances, dances and interactive workshops on eight stages. An extensive artisan area and diverse food concessions are also available.
Listen to featured performers, representing many regions and countries: Happy Traum & Jim Kweskin; Bon Debarras (Quebec) ; Low Lily; Jerron "Blind Boy" Paxton; Alderson, Foley & Murray (Irish); Choc'late (Caribbean) ; Elizabeth Laprelle & the Family Band; Beppe Gambetta (Italy); Joel Mabus; Christine Lavin; Peter Mayer; Ellis; Confluence; 3 Ravens; Máire Ní Chathasaigh & Chris Newman (Ireland/England); Stu Fuchs; Joe Jencks; Anne Hills; John Roberts; John Dickson; Roger the Jester; Rare Spirits; Fennig's All Stars; Peter & Mary Alice Amidon; Stefan Amidon; Windborne; and more!
All day and evening dancing on a wooden floor, Contras, Family, English Country and traditional dances with music by Maivish and The Gaslight Tinkers with callers Sarah VanNorstand and Sue Rosen.
Tickets are on sale now online at festival.oldsongs.org, by phone at 518-765-2815, or at the festival gate. All-festival camping  tickets and All-festival tickets discounted in advance.
---
Festival Logo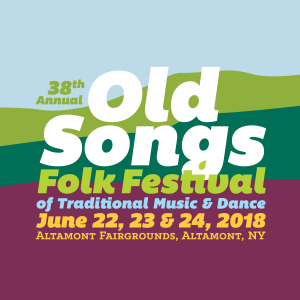 ---
Press Photos