You must Pre-register for this Workshop. To register for this Workshop: please send an email to joy@oldsongs.org with "Steve's Songwriting Workshop" in the subject line.
---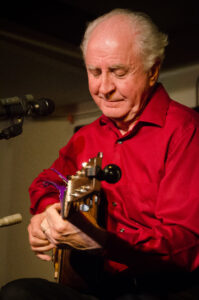 Steve Gillete is a successful songwriter with many gold and platinum recordings to his credit. He wrote the book, "Songwriting and the Creative Process" which is published by the Sing Out press.
Take a look at Steve's songwriter blog at aboutthesong.com for more complete articles on many of his songs and songwriting principles.
Our aim is to have five people sign up and show up for the Zoom session ready to perform a song and receive expert (and gentle) guidance from Steve, but also ideas and encouragement from the other participants. We plan for an hour, but we may need to exceed that time to make sure that everyone is heard from and has been reduced to tears. (Just kidding about the tears part.) We've found that listening to songs is the best way to bring up many of the issues that are faced by all of us, and hearing each other's songs is inspiring. Plan to send along a lyric sheet for the song you will sing since the Zoom platform is not always great for critical listening. It might be a little rough and ready, but I'm sure we'll have fun.
Whether you're a budding or experienced songwriter you're sure to come away with some good feedback.
It's first come, first served, so sign up soon!