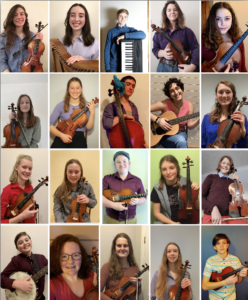 The 2020/2021 Young Tradition Touring Group consists of teen players, singers and dancers who focus on learning and performing a variety of traditional music and dance repertoire over the course of 9 months, starting in September 2020. Group members learn from and are supported by manager Mark Sustic and artist leaders Oliver Scanlon, Fern Tamagini-O'Donnell and Hilary Menegaz Weitzner, in addition to exchanges with young performers and host
organizations during a virtual April tour. Members ranging in age from 11 to 19. Though most members are from Vermont, this year members also represented Connecticut, Maine, Massachusetts and Ontario.
They did the annual spring tour virtually in late April 2021. Previous in-person tours have includedEngland, Ireland, Cape Breton, New Brunswick, Scotland, Japan and metro New York/New Jersey.  This year the group visited Sweden, England, New Brunswick, Quebec, Orkney, the Hudson River Valley, Scotland, Ireland and Japan to share music with other trad youth groups, learn in master classes and participate in peer-to-peer socializing.
For more information contact mark.sustic@gmail.com